Click Image To Visit Site
Bees are an important part of Worm Man's Worm farm for several reasons.  We need the pollination for our crops.  We grow vegetables to feed our insects.  Our Mealworms and Superworms eat potatoes, cucumbers and zucchini.  We grow wheat that becomes part of the worm bedding for Confused Flour Beetles, Rice Flour Beetles, meal worms, super worms and more.  We use the honey, beeswax and pollen to make our waxworm food to feed our big fat wax worms.  Our Lesser Waxworms eat the same formula.
Without bees, our farm would not be the same.  You don't have to have a worm farm to keep bees.  You could just want to keep bees as a hobby, for the honey, to pollinate your garden or for the wax to make candles or natural skin products.  There are many reasons to keep bees.  It is a fun and fulfilling hobby.  Check out the Practical Beekeeping tips, know how and step-by-step instructions on how to start bee keeping right now!
We have worked out a free deal for our readers.  You get the FIRST CHAPTER of Practical Beekeeping Starter Guide for free.  Just download it straight to your inbox! This FREE Intro Worth$7.  If you don't like it then keep the first chapter and return here for more free information and bug stuff.  🙂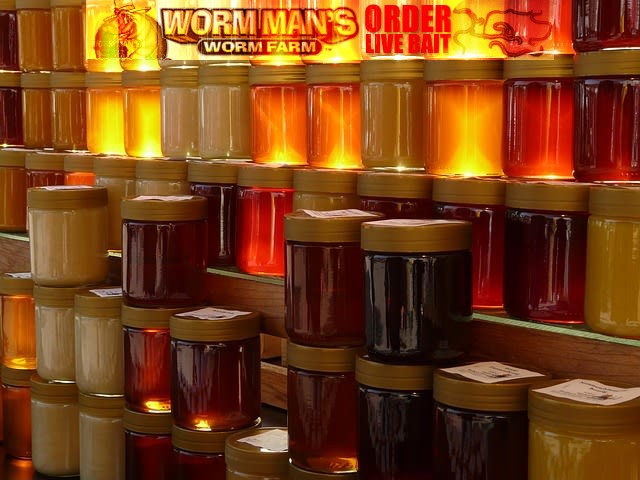 Simply Fill In Your First Name And Real Email Address Now For Free Instant Download – While It's Still Available..
We respect your email as if it is our own. We have a no spam policy. You can unsubscribe at any time. Your download link will be sent to your email. Your information will never be shared. We respect your privacy and hate SPAM with a passion.
If honey bees disappeared off the face of the Earth all humans would be wiped out by starvation within about 3 years. Shocking right? What does this mean today? There's an EVER-INCREASING DEMAND for HONEY and POLLINATION and that means BEEKEEPERS! We won't bore you with the whole "how this could happen" story because you'd still be here at Christmas… but what you will want to know is this:
Learn how you can keep honey bees in your area! By doing so, you ensure plants and trees in your area will thrive. At the same time, you enjoy harvesting your own bee honey,bee pollen and royal jelly.You also get to benefit from a high demand in bee products around the world and bee keeping services. Bee removals are increasing as more bees move into suburban and urban areas. Honey is increasingly in demand too!
Bees pollinate around 70% of the world's plants and trees including fruit trees, maize, wheat, sunflowers and so much more.
Without honey bees there is very little cross pollination and that means very low harvests come summer time for picking apples, pears, strawberries, corn... Read more...